Description
Arkopharma Californian Poppy
(45 capsule)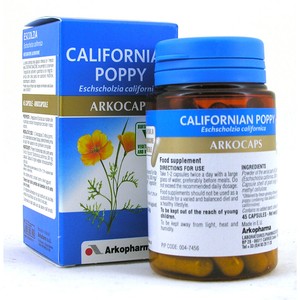 What is the Californian Poppy?
This plant is a natural hypnotic: it prepares for peaceful sleep, reduces sleeping problems, particularly nightmares, waking during the night and difficulties in falling asleep. It is also an anxiolytic and a sedative: it helps anxious people of all ages recover and have a calm life without stress. It has no side effects and it is non-addictive.
Unique Freeze- grinding process
In order to extract the best from each plant with all of it's active ingredients intact, Arkopharma uses a hi-tech process known as freeze-grinding.
This process consists of powdering the active part of the dried plant by cold-crushing it in liquid nitrogen at -196 degrees. This produces a perfectly fine, homogeneous powder – the whole plant powder or plant totum.
Why is cold used? Studies have shown that heat and oxidation occur during standard grinding procedures which can cause deterioration of vitamins, enzymes, volatile substances and many active principles.
Therefore the plant totum obtained by freeze-grinding contains not only the whole of the active principles but also the plant constituents that act synergistically to provide greater efficacy.
All Arkocaps capsules, therefore, consist of whole powder in order to bring you all of the plant components fully intact.
WHOLE POWDER = COMPLETE BIOAVAILABILITY
Ingredients
Powder of the aerial part of californian poppy* (Eschscholzia californica, 300mg per capsule). Capsule Shell of plant origin: Hydroxypropyl methyl cellulose. *Obtained by freeze-grinding
Take 2 capsules evenings during meals and 2 capsules before going bed. Children (6-9 Years): 1 capsule before going to bed with a large glass of water Children (10-14 Years): 1 capsule evenings during meals and 1 capsule before going bed.
Warning
To be kept away from light, heat and humidity.
Keep out of the sight and reach of children.
View All
Close